So much can change in a few hours.  From the time I began my earlier blog at 2:30 am to about 30 minutes ago the abrupt outbursts from others in the house are pushing me over the edge.  I pressed on with my itinerary… was in the shower at 7 and on my walk with unfortunately dog only at 7:30.  I came back and hung the valance in my office and tried to just ignore the random yelling.  But finally, I just couldn't take it… "Do you know how much I want to yell at everyone in this house on a daily basis?!!" "Please for the love of God Stop!" I suddenly feel overwhelmed with anxiety.  My heart is racing, my breaths are labored, my senses are overloaded.  I sat outside after taking anxiety med (little extra) and there come the tears… OK time to move on. Here are tips on how to deal with my specific anxiety glitches… focus JenFaFa… I am sticking to my schedule … Just gotta get through this moment….
---
 How to Slow Down Your Racing Heartbeat When Feeling Anxious
One of the most common and frightening symptoms of anxiety is a racing heartbeat. When I was suffering from frequent panic attacks, my heart would beat so furiously that I worried I was having a heart attack. The following technique can be used to help calm yourself down and return your heartbeat to a more normal pace when feeling anxious.
It all starts with a deep breath…
When you feel overwhelmed with anxiety, take a very deep breath through your mouth and hold it in. While continuing to hold your breath, flex or tense every muscle throughout your body as intensely as you can. Feel every inch of your body tremble from the strain. Continue squeezing your muscles for 5-10 seconds, and then immediately relax every muscle as you slowly exhale through your nose.
As you exhale you will feel an incredible release of tension and stress throughout your body. Your heartbeat will slow to a more natural and relaxed pace as does your breathing, which helps to calm you down.
Breathe normally for the next minute or so and then repeat this exercise. Doing just one or two iterations is often enough to provide tremendous relief.
I've used this technique to overcome panic attacks when flying, stuck in traffic, and before public speaking. It helps provide immediate relief and can snap you out of an anxious state of mind. When anxiety arises, give it a try.
---
Accept that you're anxious.
Remember that "anxiety is just a feeling, like any other feeling," said Deibler, also author of the Psych Central blog "Therapy That Works." By reminding yourself that anxiety is simply an emotional reaction, you can start to accept it, Corboy said.
Acceptance is critical because trying to wrangle or eliminate anxiety often worsens it. It just perpetuates the idea that your anxiety is intolerable, he said.
But accepting your anxiety doesn't mean liking it or resigning yourself to a miserable existence.
"It just means you would benefit by accepting reality as it is – and in that moment, reality includes anxiety. The bottom line is that the feeling of anxiety is less than ideal, but it is not intolerable."
---
Use a calming visualization.
Hyland suggested practicing the following meditation regularly, which will make it easier to access when you're anxious in the moment.
"Picture yourself on a river bank or outside in a favorite park, field or beach. Watch leaves pass by on the river or clouds pass by in the sky. Assign [your] emotions, thoughts [and] sensations to the clouds and leaves, and just watch them float by."
This is very different from what people typically do. Typically, we assign emotions, thoughts and physical sensations certain qualities and judgments, such as good or bad, right or wrong, Hyland said. And this often amplifies anxiety. Remember that "it is all just information."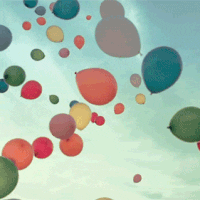 That was very helpful.  There go my thoughts on those balloons.  Flying away from me effortlessly.
---
SEE THE BEAUTY
Look at this guy.  Just chillin.  Ahhh …a smile creeps to my face.
I can see clearly now the rain is gone
I can see all obstacles in my way
Gone are the dark clouds that had me blind
It's gonna be a bright (bright)
Bright (bright) sunshiny day
It's gonna be a bright (bright)
Bright (bright) sunshiny day
---
WORDS OF ENCOURAGEMENT